Under Eye Camouflage Tattoo
For those who have tried everything for dark circles under eyes… There is still a workable solution using cosmetic tattooing.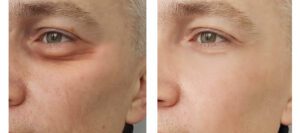 Under eye concealer tattoo (also known as an under eye camouflage tattoo) is a modern approach to an old problem for many. It is a fact that dark circles do not help people to look better. Beauty market offers various solutions to solve this problem. Unfortunately, a very few of them really help, and not for long. The under eye concealer tattoo appeared in the world of beauty a few decades ago, but only recently has become a popular procedure. Those who have already got it done call it a "game changer" or a "miracle procedure'.  
Under eye concealer tattoo is a long-term semi-permanent type of tattoo. On average, result lasts about 4-5 years and requires very low maintenance. After this period, a new session of under eye concealer tattoo can be done to refresh the lightness.
A desirable effect is achieved within several sessions (a number depends on the level of the under eye darkness). It can vary from 1 to 5. The under eye concealer tattoo is a delicate procedure, that requires patience from a client. First effect gets noticeable after about a month from the day of procedure. There will be no visible colour on the skin, like when tattooing eyebrows or lips. In contrast to it, the skin becomes lighter due to the pigment microparticles in the skin, which create a shield that reflects light. Due to its effect, human eyes are no longer able to recognise under eye darkness. If to look closely (even with a magnifying glass), then healed under eye camouflage looks like there is makeup loose powder on it. 
Under eye concealer tattoo is a beauty magic procedure that allows people to no longer cover the area under the eyes with makeup concealer. In addition, it helps protect the skin from UV-light, and also rejuvenates the skin by stimulating the production of collagen at the cellular level.
  What to expect: Light skin colour pigment will be implanted in the superficial level of the skin, less than 0.3 mm depth (under epidermis). The capillaries are not getting touched so there is no blood or bruising. A client might experience a very low skin swelling in rare cases.
Under eye camouflage tattoo doesn't change the colour of the skin but only creates a 'shield' between capillaries and the epidermis. Thus, the skin will still get tan in the sun.
The general purpose of the procedure is to get a very fresh darkless and natural look rather than creating a bold layer of the pigment. This is why a few sessions might be required (depends on each individual case) to get a smooth and a natural effect.
The process is absolutely painless and safe for eyes.   The time between the sessions (if more than is 1 needed) is 5-6 weeks. The individual assessment is required.