Under Eye Camouflage Tattoo in Sydney
For those who have tried everything for dark circles under eyes. There is still a workable solution using cosmetic tattooing.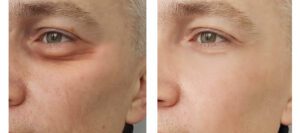 What to expect: The high quality pigment will be implanted in the basal layer of the skin (top layer of the dermis). The capillaries are not getting touched so there is no blood.
It doesn't change the colour of the skin but only creates a 'shield' between capillaries and the epidermis. Thus, the skin will still get tan in the sun.
The general purpose of the procedure is to get a very fresh darkless and natural look rather than creating a bold layer of the pigment. This is why a few sessions might be required (depends on each individual case) to get a smooth and a natural effect.
The process is painless.  Importantly, depends on the individual conditions, it might need more than 1 session. Up to 4. The time between the sessions (if more than is 1 needed) is 5-6 weeks. The individual assessment is required. 
Scar Camouflage in Sydney